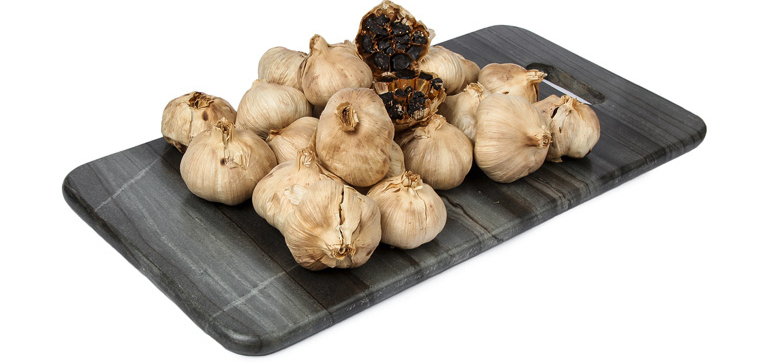 Win the Battle against Cancer Using Black Garlic
20-3-2018
Black Garlic, has been gaining popularity among Western foodies for several years now, has recently caught the eye of health-savvy individuals due to studies revealing its impressive nutritional properties. Black garlic is produced by "fermenting" whole bulbs of fresh garlic at high temperature in a humidity-controlled environment for a few weeks.
Though lengthy, the process causes the garlic cloves to turn black and develop a soft, chewy texture with a sweet "prune-like" taste. Many claim that the flavour will impress even the most avid garlic-hater, as the pungency and spiciness simply disappears, as the pearly white cloves slowly transition into their final black appearance. No additives, no preservatives, it's just pure black garlic!
Researchers have found that during 'fermentation' allicin gets converted to sulfenic acid, which has the ability to destroy free radicals upon contact. This makes it super effective at protecting your body against a wide range of ailments ranging from hypertension to cancer.
In a study, Japanese researchers found that Black Garlic was more effective than fresh garlic in reducing the size of tumors. In another study, Black Garlic was found to have twice the antioxidant levels as compared to fresh garlic—the 'fermentation process' appears to double the antioxidants. Thus, with twice the antioxidant level of the better-known white variety, Black Garlic should join your list of must-have super-foods.
Studies indicate that Black Garlic could be a tool for preventing and treating colon cancer. There is also evidence that it is a potent natural anti-cancer agent, which helps fight cancer cells, especially in the pancreas, lungs, brain and breasts.
You might wonder how to use this power-packed, nutrient-rich super food. Well, Black Garlic is an extremely versatile ingredient that could be used in a number ways:
You could top it with an egg for an extra protein kick or have it with cheese.
Chop up some bulbs and mix in with your filling and spices to make burgers. You could even spread it directly on the bun or on top of the burger to replace butter, mayo, or other condiments.
Black Garlic is a natural fit for hummus. It can also be used to just like garlic in soups, salads or to marinate chicken, meat, fish or cottage cheese.
Using Black Garlic in sauces is a great way to dress up items like mushrooms and tofu, which take on the flavor of whatever they're prepared with.
So just go ahead, score the benefits of Black Garlic with each bite and win!!